Custom Patio Heaters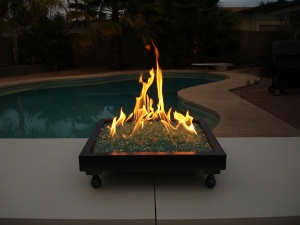 Warm your patio or backyard with a wide selection of beautiful outdoor propane patio heaters. Our collection of portable patio fire pits help make your backyard dining and entertaining space warm and inviting in any season, at any time. The gentle firelight makes cool nights cozy and romantic and turns cold fall evenings into idyllic camp nights.
Choose a propane patio fire pit to compliment your home exterior and yard, as well as a size and shape to fit in perfectly. You can connect your heater to your grill propane tank or select a design fueled by natural gas. Place your heater on your patio table, fire pit, BBQ island or on the ground to make a lovely campsite in your own backyard, or take your portable heater with you to bring the snug ambiance to any location. All fire pit heaters are safe to cook on, easy to travel with and durable enough to withstand years of outdoor use.
Take a closer look at our glass, sand or lava rock designs and customize your heater to suit your needs. Find more barbecue and patio accessories online at Arizona Backyard Custom.
Please Contact Us Today For A FREE Patio Fire Pit or Heater Design Quote. There is absolutely no obligation – CALL TODAY @ (480) 216-1469.